Tango Escape on the Monterey
Peninsula!!
Gorgeous scenery, temperate weather, lots to see and do — and Tango!
Tango Monterey Bay is a community of Monterey Bay dancers who share a passion for Argentine tango. We provide regular lessons, practicas, milongas, and occasional workshops. Whether beginner or experienced, resident or visitor, we invite you to join us to experience the uniqueness of this dance.
* * * * * * * * * * * * * * * * * * * * * * * * * * * * * * *
February Events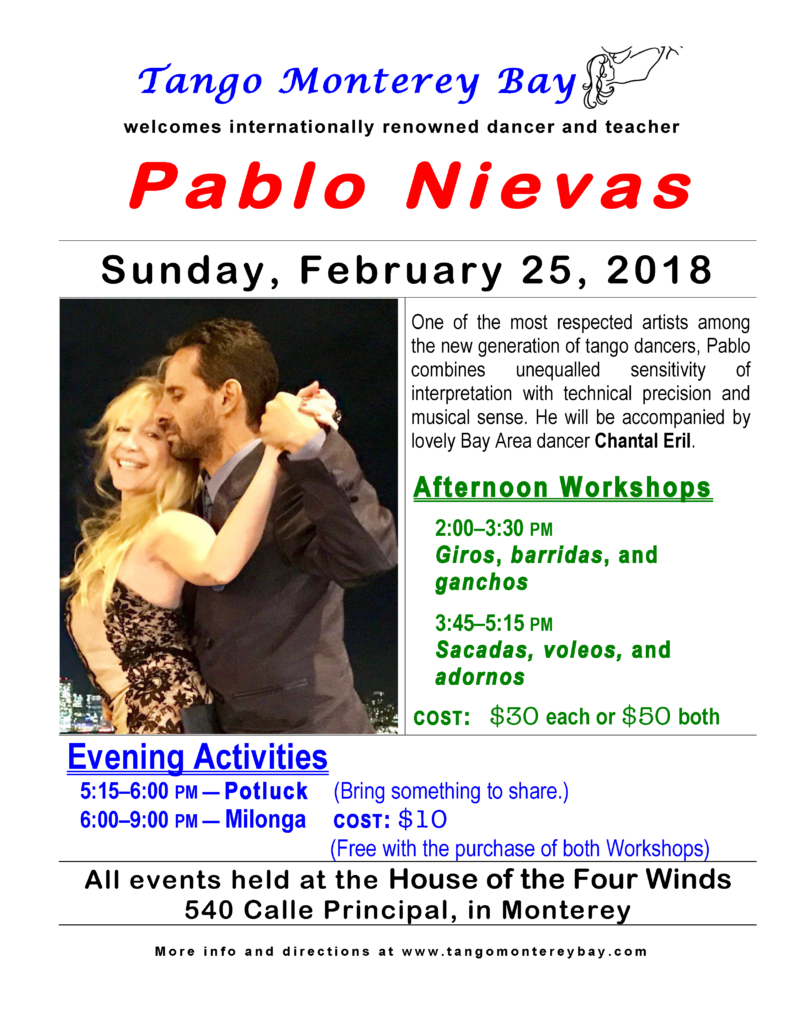 Shoe Policy
In order to preserve the House of Four Winds dance floor — one of the best in the area — our new contract requires that participants wear dance shoes, not street shoes, at our practicas and classes. Not to worry, however: if you don't have dance shoes you can still participate in our practicas and classes wearing either socks or shoe covers, which we will provide.
Thursday Classes
Beginning and intermediate classes are taught by several teachers — Lisette Perelle, Glenn Corteza, and Julian Ramil are old friends from the Bay Area. No partner required. $10 for one class; $15 for both classes; practica free with a paid class, $5 otherwise. From 7 – 10 pm at the House of Four Winds unless indicated otherwise. For more complete descriptions of our teachers, go to the Classes page.
Feb. 1: Lisette Perrele Lisette has been our teacher for several years. She's an elegant dancer and patient teacher who concentrates on the techniques necessary for smooth, powerful and beautiful dancing. She works with the whole body, focusing on connection, alignment, lines and beautifying steps.

Feb. 8: Lisette Perelle

Feb. 15: Katya Sazonchik Katya ran a dance school in Russia and has taught many styles of dance, including Argentine tango. Now living in Monterey, she will add a new dimension to our tango instruction.

Feb. 22: Lisette Perelle
Sunday Workshop
Sunday, Feb. 25: Two workshops by Pablo Nieves. WS 1, 2:00-3:15 PM, $30; WS 2, 3:45-5:00, $30. Both workshops $50. Followed by milonga, 6-9 PM, $10. Followed by a milonga, 6-9 PM, $10. At the House of Four Winds.
.
Tuesday Practicas
Feb. 6, 13, 20, 27: Practica at the House of Four Winds. For beginners and more experienced dancers — everyone dances with everyone else. No partner required. It's the best — and friendliest — tango deal in town! At the House of Four Winds, 7-10 pm, $5.
Milongas



A tango dance party at the House of Four Winds.
Saturday, Feb. 10 This is our big milonga with lots of out of town visitors. 9:00-midnight. $12
Sunday, Feb. 25: Low-key and you get to bed early! 6 -9 pm. $10. Preceded by Workshop with Pablo Nieves.
.
Practica on Tuesdays, Classes on Thursday
Tuesday Practica: 7-10:00 at the House of Four Winds. The attendance is great — everybody comes and has a good time. Beginners: Come learn tango in a friendly and welcoming environment. There's no formal instruction but our more experienced dancers are available to answer your questions, work on specific steps, or just plain get you started. Intermediate and advanced dancers: Practice the steps you learned at our Thursday classes, work on more complex steps, help the beginners, or just dance with your friends. Only $5!
Thursday Classes: 7-10:00 at the House of Four Winds. Our Thursday classes have attracted hordes of new beginners!
7-8:00, Fundamentals for all levels— a great way to start from scratch or polish your existing style.
8-8:15, Practica — For all levels.
8:15-9:15, Intermediate only — For dancers already proficient with the basic steps
9:15-10, Practica — for all, regardless of your level
No partner required. $10 per class, $15 for both classes. The practica is free with a paid class, $5 otherwise.
Private Lessons
Do you like one of our teachers? Sign up for a private lesson. Prices and availability vary — check details with Charlie.
* * * * * * * * * * * * * * * * * * * * * * * * * * * * * * * * * * * * * * * * *
Tango Monterey Bay is run by Charlie Carroll. You can reach him at 831-601-7199, or at tangomontereybay@yahoo.com. Our events are held at House of the Four Winds, 540 Calle Principal in Monterey. For a map, click here.
Tuesday Practica with Charlie
Thursday Classes with Lisette, Glenn, or Julian
2nd Saturday Milongas
4th Sunday Milongas with Charlie
Charlie 831-601-7199 | More Info: tangomontereybay@yahoo.com